Hi friends! From time to time you'll hear us talk about essential oils here on the blog. They play a large part in our daily life so naturally we're excited to share about them.
We've compiled a bit of information for you in case you're interested in learning more about essential oils:
What are essential oils?
Essential oils are the volatile liquids distilled from plants (including the seed, bark, leaves, stems, roots, flowers and fruits).
How long have essential oils been used?
Plants and the essential oils extracted from them, were man's first medicine. From the Egyptian hieroglyphics to the Chinese manuscripts and even the BIBLE, essential oils have been mentioned for their healing capabilities.
What oils do we use?
We've decided to use Young Living oils for our family.
Why do we use Young Living?
There are many reasons why we have chosen to use Young Living oils but to keep it short and sweet, we use YL because of their 25 year commitment to establishing and maintaining an industry-leading standard in essential oil products. The company is commited to rigorous quality control standards to ensure all of their products meet strict specifications.
Sourcing, Science and Standards are the "three pillars" of YL's Seed to Seal promise and that's important when you're investing in your families health!
Feel free to ask if you'd like more info on Young Living or visit their website here:
https://www.youngliving.com/en_US/discover/seed-to-seal
Why is it so important to use PURE THERAPEUTIC-GRADE OILS?
The chemical constituents of essential oils are necessary for essential oils to be safe and work well. High pressure, high temperatures, rapid processing and chemical solvents used during the distillation process with less expensive, non-therapeutic grade oils will produce oils that are lacking most, if not all of the chemical constituents necessary to produce therapeutic results.
What are some of the benefits of therapeutic grade essential oils?
Essential oils are so small in molecular size that they are able to penetrate your skin extremely fast.
They are lipid soluble and therefore capable of penetrating cell walls.
Essential oils are capable of affecting every cell of the body within 20 minutes and are metabolized by the body like any other nutrients.
They are powerful antioxidants.
They are antibacterial, antifungal, antiviral, antiseptic, antiparasitic.
Are you interested in purchasing oils through our team?
We're here to help you get started with your very own starter kit! Once you've decided to start using YL oils, we can walk you through how to use all of those goodies! The possibilities are truly endless!
You can follow us along for lots of essential oil tips and recipes on our Instagram page:
https://www.instagram.com/wholelivingwithoils/
Want to know more about one of our favorite starter kits to get you going with Young Living?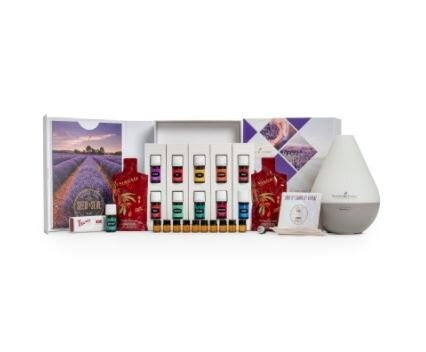 https://www.youngliving.com/en_US/products/premium-starter-kit-military-base-apo-fpodpo?al=starte
This kit has everything you need to get started and more!
Dewdrop™ Diffuser
Premium Essential Oils Collection;

Lavender 5-ml
Peppermint 5-ml
Lemon 5-ml
Cedarwood 5-ml
AromaEase™ 5-ml
Thieves® 5-ml
Purification® 5-ml
R.C.™ 5-ml
DiGize™ 5-ml
PanAway® 5-ml

Deep Relief 5-ml
AromaGlide™ Roller Fitment
Thieves® Mints
10 Love It? Share It! Sample Business Cards
10 Love It? Share It! Sample Oil Bottles
2 NingXia Red® 2-oz. samples
Product Guide and Product Price List
Essential Oil Magazine
Essential Edge News
Member Resources
There are also lots of other options out there to suit every style and budget.
If you'd like to join our team, when purchasing oils through YL's website, be sure to use our YL member number 17883829.
If we can help answer questions for you about essential oils in general or Young Living specifically, please feel free to ask. We're passionate about oils and we're passionate about helping others! ❤
In case you're curious about the business end of things, here's a copy of YL's annual income disclosure statement: